The Advanced Kettlebell Workout Challenge
Ready to take your kettlebell training to the next level?
Here is my advanced kettlebell workout that challenges you in all directions with many effective and unusual kettlebell exercises.
Please note that this kettlebell workout is not for beginners. You need a good understanding of kettlebells as well as solid core strength in all directions in order to perform this workout safely and effectively.
The challenge is to complete all 12 kettlebell exercises, one after the other, without putting the kettlebell down.
---
12 Advanced Kettlebell Exercises
1

– Bottoms Up Clean

10 reps each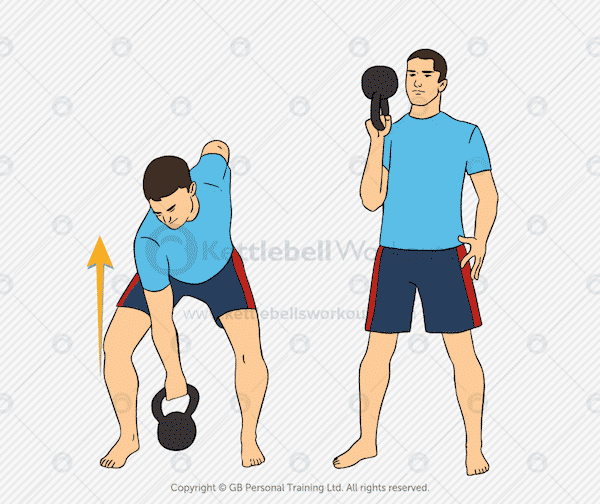 An excellent warm up exercise that also challenges your grip, alignment and core.
Keep your elbow tucked in and your core muscles nice and tight.
Watch the kettlebell doesn't flop over and hit you in the face. You can use your other hand to protect your face when you first start practicing this movement.
Discover more: 7 Most Effective Grip Strength Exercises
---
2

– Windmill

5 reps each side
You will be challenging your shoulder stability with this exercise as well as the mobility of your hips and shoulders.
Descend nice and slowly and keep your eyes locked on the kettlebell.
Learn more: Master the kettlebell windmill with these 4 progressions
---
3

– Goblet Squat

20 total reps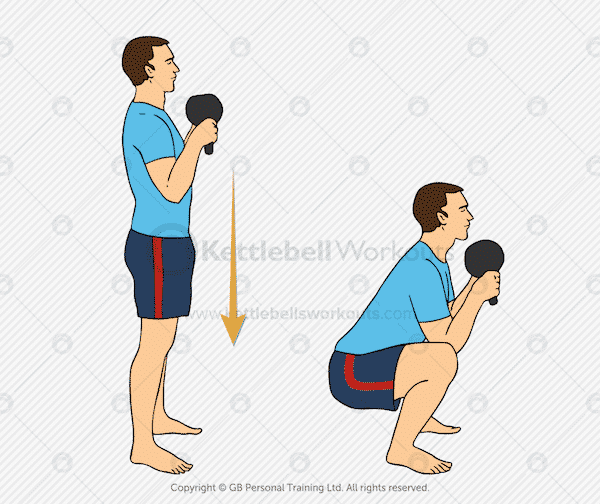 A fundamental movement that will help to warm up your legs, hips and buttocks as well as raising your heart rate.
Focus on good quality squats and keep your elbows tucked in and close to your sides throughout the exercise.
Learn more: 7 kettlebell squats your need to know
---
4

– Single Handed Swing

10 reps each side
Now we begin the more cardiovascular part of the challenge.
Drive through your hips and stand tall changing hands after 10 reps.
Discover more: 7 kettlebell swing mistakes that will cause back pain
---
5

– High Pulls

10 reps each side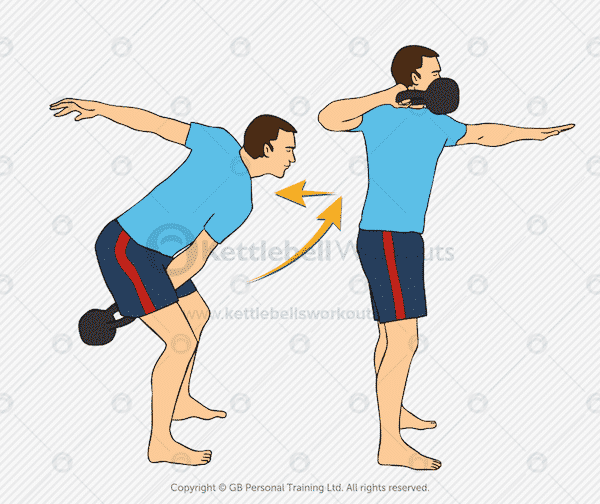 Without stopping the flow of the kettlebell change hands and move straight into the high pull.
Good alignment is important during this exercise.
Your wrist and forearm should be in a straight line and your grip nice and tight.
Learn more: Master the kettlebell high pull exercise
---
6

– Snatch

10 reps each side
The final part of this 3 exercise flow sees the kettlebell go all the way to the top with the Snatch.
Timing is crucial as you pull and then push your hand through the handle.
Keep your shoulder back in its socket as your throw the kettlebell out and back down.
Get it right: Ultimate guide to the kettlebell snatch
---
7

– Side Lunge and Clean

10 reps each side
An advanced kettlebell exercise that requires good coordination.
Remember that you clean the kettlebell up as you return back from the deep lunge position.
It is important to keep a strong core and flat back throughout this movement.
Fix your clean: Stop banging your wrists and master the clean
---
8

– Lateral Swings

10 reps each side
You will get some great core rotation from this advanced kettlebell exercise but you will need to be careful to avoid your front knee as the kettlebell swings across the body.
Keep that lower back flat and braced!
Learn more: 7 best kettlebell ab exercises
---
9

– Static Lunge and Press

10 reps each side
Suddenly your balance is now challenged as you lunge and press without moving your feet.
Not an easy exercise after all the other exercises that you have performed.
Learn more: 16 kettlebell lunge variations
---
10

– Half Reverse Turkish Get Up

10 reps each side

With tired shoulder stabilisers this exercise can be very challenging at this stage of the workout.

Take your time and perform each movement slowly as you catch your breath.

Master the exercise: Ultimate guide to the kettlebell Turkish get up
---
11

– Bob and Weave

20 total reps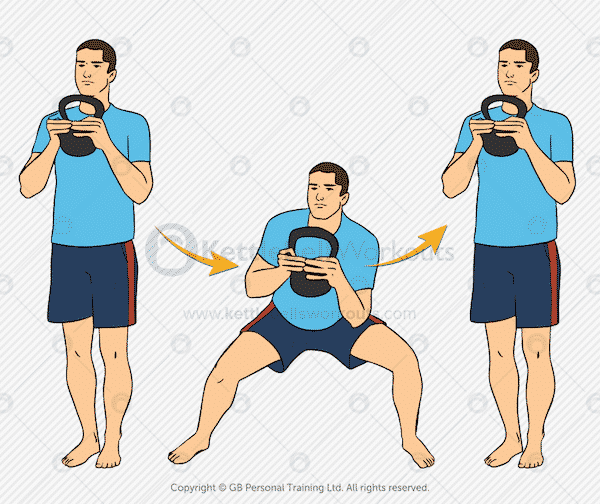 Some sideways movement now really starts to work into the legs.
Don't cheat with this movement take good deep steps and keep the kettlebell nice and close to your body.
Learn more: 8 best kettlebell hamstring exercises 
---
12

– Clean, Squat and Press

10 reps each side
The final exercise and a very demanding way to finish the workout.
It can be difficult at this point in the challenge to remember every single part of the movement.
Don't forget to return the kettlebell to the bottom of the clean position after every press.
Want more? Total body 20 minute kettlebell workout challenge
To see even more posts about full body workouts and advice, go here.
Did you finish this Advanced Kettlebell Workout Challenge? Let me know more below…