Why More Women Should Use Kettlebells
More and more ladies are discovering the benefits of effective kettlebell workouts for women. There are a number of reasons why kettlebells are an excellent choice for females who wish to tone their body and remove unsightly body fat.
Men have always been drawn to resistance based training using Dumbbells, Barbells and weight training machines. Men naturally have more upper body strength than women and so find training the upper body easier and more intuitive.
Women on the other hand tend to steer clear of the weight section down the gym and opt for more aerobic training options like running, spin classes and Zumba style dance classes.
There are a number of reasons however why women should be spending more time performing resistance based workouts and using a kettlebell is a great choice providing you progress slowly and receive some expert tuition.
---
5 Benefits Of Kettlebell Workouts For Females
Below are 5 reasons why women will achieve some great benefits by training with kettlebells:
1

Conditions muscle but won't beef you up

Effective kettlebell workouts for women are very dynamic and cardiovascular in nature. Although the resistance element of kettlebell training will condition existing muscles it will not cause a huge amount of hypertrophy or muscle growth.

Great news for women who wish to add muscle tone without the bulk.

Plus ladies, you don't have to worry about looking like a bodybuilder, women have 100 times less Testosterone, the male growth hormone, so it is very difficult for women to put on too much muscle.
---
2

Full body workouts get more fat burning

If you have received a correctly designed female kettlebell workout then your exercises are going to consist of full body, compound movements, that target almost every muscle in the body.

The more muscles that are targeted at one time the more energy you will require and the more fat you will burn.
---
3

Super quick workouts for females

As mentioned above, kettlebell workouts target a lot of muscles in one go so you don't waste time having to target separate areas of the body individually.

You will find that these full body workouts for women are hard work from the beginning, using lots of energy in one go is tiring but also very time efficient.

Be sure to use the correct kettlebell exercises, kettlebells should not be used the same as a dumbbell.

If you use the correct exercises, as listed below, then you'll only need to workout with kettlebells for less than 15 minutes per day.
---
4

Kettlebells target the hips, butt, thighs and waist

Unfortunately you can't just focus on a particular part of the body and reduce fat in that area, sorry!

However, by targeting the really important larger muscles including the hips, glutes, and quads you will increase your body's metabolic rate. The more muscle tone you have in your body the more energy the muscles require at rest and so the more fat you burn just in daily life.

Kettlebell exercises like the swing hit all those important muscle groups in one fluid movement, ramping up your metabolic rate.
---
5

Kettlebell workouts for women are addictive

Not every person enjoys exercise and women are no exception. Kettlebells offer an exciting dimension to a fitness routine that can become very addictive.

Learning to train correctly with kettlebells takes skill, time and dedication. Often women get wrapped up in the intricacies of kettlebell training and forget that they are even working out.

In my personal experience I have found more women seem to stick to a kettlebell program than men. Just as an exercise like running is totally mindless (which some people do enjoy) kettlebell training takes focus and understanding.
---
Choosing the Best Kettlebell Weight For Women
Ladies, you are stronger than you think you are.
Women carry children with one arm, drag large suitcases through airports and have lots of natural strength in the legs and buttocks.
Women are strong and should lift heavier weights.
One of the largest misconceptions is that women should be using small 3lb weights to avoid bulking up. As mentioned earlier, women have very little growth hormone so bulking up will not be a problem.
When you perform kettlebell exercises correctly you use your whole body, you drive with your hips and legs, you burn a lot of calories and use 100's of muscles at once. You need to lift heavier weights to activate all these muscles.
Here are the kettlebell weights that I use with all my female clients as well as in my kettlebell classes:
8kg / 15lbs – Starting weight (I have never had a client who couldn't start on this weight)
12kg / 25lbs – Athletic women will progress to this weight within 6 weeks, especially for two handed swings
16kg / 35lbs – Stronger women will be using this weight for many two handed exercises within 6 months
Related: Complete Guide to Buying Kettlebells and 7 Types to Avoid
---
7 Best Exercises for a Women's Kettlebell Workout
I've listed below the exercises that women will get the most benefits from within their kettlebell workout. There are in order of importance so start at the top and work your way down.
1

Kettlebell Single Arm Deadlift
Muscles Used: Glutes, Hamstrings, Quads, Hips, Core, Back
Why it's important: The corner-stone of a women's kettlebell workout and the one exercise that all women should focus on. The single arm deadlift sends the focus right to the back of your body and into the glutes. For a strong, lifted and stunning backside this is the exercise to work on.
The single arm deadlift will also raise your heart rate and burn a lot of calories for you. Don't be afraid to increase the weight here once you have mastered the technique.
I've had ladies lifting a 32kg kettlebell with this exercise.
Related: 7 Best Glute Exercises Using Kettlebells
Watch the video of the Kettlebell Single Arm Deadlift below:
---
2

Kettlebell Single Leg Deadlift
Muscles Used: Glutes, Hamstrings, Hips, Core (front and back)
Why it's important: The body connects the legs and hips with the shoulders and arms via the core muscles. The single leg deadlift works hard into the core muscles connecting the shoulder with the opposite hip via the cross body sling system.
Mastering the single leg deadlift will not only give you stunning torso but also protect your spine from future exercise injury. Oh, and it's a great exercise for conditioning the hips, glutes and hamstrings too!
Related: Complete guide to the single leg deadlift exercise
Watch a video of the Kettlebell Single Leg Deadlift below:
---
3

Kettlebell Swing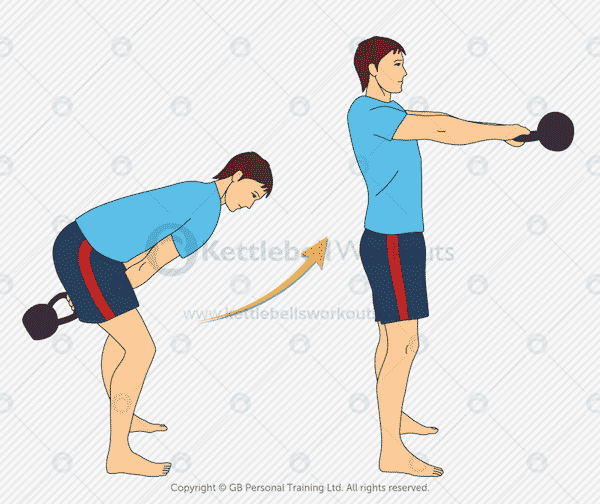 Muscles Used: Glutes, Hamstrings, Hips, Quads, Core, Back
Why it's important: Once you have mastered the two exercises above then this is where the fun will really start. Kettlebell swings will quickly become your number one fat burning exercise.
Not only do kettlebell swings hit over 600 muscles in the body but they are also very cardiovascular. Get ready for a cardio, strength, and super fun exercise all rolled into one.
Learn more: 4 steps to master the kettlebell swing for beginners
Watch the video of the Kettlebell Swing below:
---
4

Kettlebell Turkish Get Up
Muscles Used: Glutes, Hamstrings, Hips, Quads, Core, Triceps
Why it's important: The Turkish Get Up is a big fully body exercise that not only works deep into your core muscles but also improves your joint mobility too. If ever you feel stiff or tight then the Get Up will certainly help.
The Get Up is a beautiful movement that can be savoured and enjoyed from start to finish. Invest time into the Get Up and your body will thank you for it.
Discover more: Ultimate guide to the kettlebell turkish get up
Watch the video of the Turkish Get Up below:
---
5

Kettlebell Row
Muscles Used: Glutes, Hamstrings, Hips, Quads, Core, Shoulders, Back, Biceps
Why it's important: The row is a crucial exercise that will focus into the back as well as the rear of the shoulders. Performing the row standing as demonstrated below also works into the legs and core too.
The row exercise will help pull your shoulders back and improve the appearance of the chest. It is also great for counteracting all that sitting that so many of us have to do each day.
Learn more: 6 kettlebell row variations you need to know
Watch the video of the Kettlebell Row below:
---
6

Kettlebell Thruster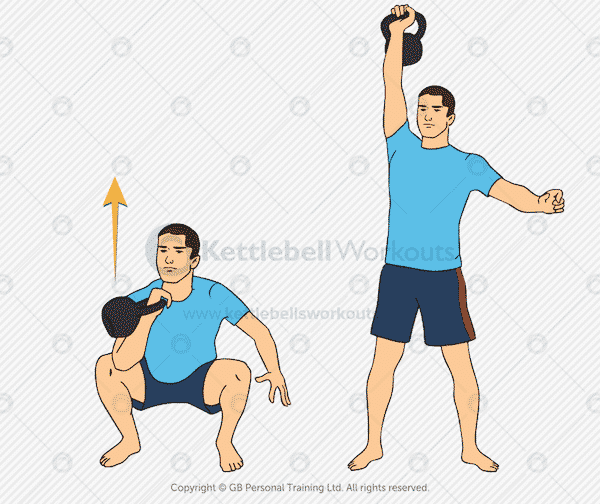 Muscles Used: Glutes, Hamstrings, Hips, Quads, Core, Triceps
Why it's important: There are not many muscles left untouched by the Squat and Press. You can perform the exercise either with one hand and change after a certain amount of repetitions or use two hands.
One of the biggest mistakes made with this exercise is not squatting deep enough. Work hard to get your thighs down to level with the floor for an added glute activation bonus.
Related: Master the Kettlebell Thruster the Ultimate Full Body Exercise
Watch the video of the kettlebell thruster below:
---
7

Kettlebell Side Lunge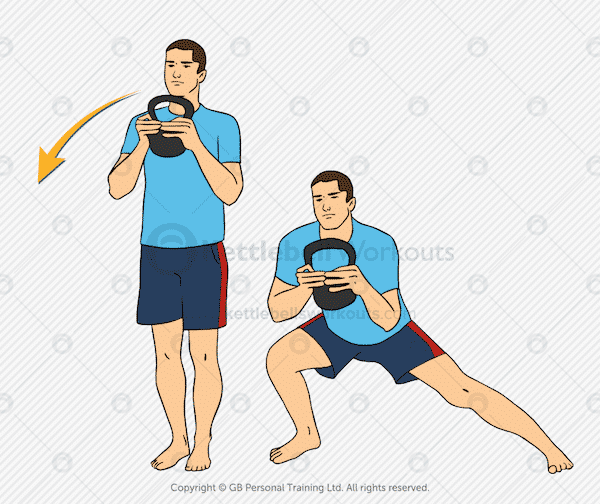 Muscles Used: Glutes, Hamstrings, Hips, Quads, Core
Why it's important: The side lunge will not only open up your hips but also condition great legs and a lifted backside. The deeper you can perform the side lunge the better but you should start off steady and work on getting deeper and deeper into the movement with every repetition.
Related: 16 Kettlebell Lunge Variations from Beginner to Pro
Watch the video of the Side Lunge below:
---
8

Push Ups (Bonus exercise)
Muscles Used: Glutes, Core, Chest, Triceps
Why it's important: Men have a naturally stronger upper body than women which usually results in them avoiding the Push Up. If you want to firm up your chest, core and backs of the arms then Push Ups are very important.
If you struggle with full push ups then increase the elevation of your hands to a table. Once you can perform 10 repetitions lower your hands to a bench, then finally the floor.
Related: 13 bodyweight exercises you should use with your kettlebell workouts
---
How Often Should Women Workout with Kettlebells?
How often you workout will depend on how quickly you recover from your last workout. Following each workout your body needs time to repair the tissue damage and restore balance or homeostasis.
Failure to rest long enough between workouts will result in over fatigue, possible injury and an inability for your muscles to increase in size and shape.
Ladies naturally recover from exercise quicker than men. Men can be sore for up to 72 hours following a workout whereas women are usually sore for 24 hours only.
However, your body's ability to recover from exercise is affected by more than just your gender.
Age
Quality of Nutrition
Workout intensity
Daily activity
Genetics
Athletic experience
All these factors will effect how quickly you recover from your last kettlebell workout.
So ultimately you need to listen to your body and if you feel tired or demotivated then take an extra days rest.
As a general guide aim for shorter kettlebell workouts (see workouts below) but more often, 3-5 workouts per week is a good start.
If you feel you can handle more then get outside and cycle, walk, swim and just stay active.
Remember the old story of the "tortoise and the hare", the tortoise takes his time and eventually wins the race beating the impatient hare.
You should also think of exercise long term. Be consistent. Practice workouts rather than forcing workouts.
---
3 Kettlebell Workouts For Female Beginners
Here are 3 kettlebell workouts to get you started.
Progress slowly, if you feel sore after the workout take a day off.
Aim for 3 – 5 workouts per week.
Start with workout 1 and don't move onto workout 2 until you can complete 3 circuits comfortably.
Workout 1 – Beginner Kettlebell Workout for Women
Kettlebell Single Arm Deadlift – 12 reps each side
Kettlebell Squat and Press – 12 reps (6 each side or 12 holding the kettlebell in both hands)
Kettlebell Row – 12 reps each side
Push Ups – 12 reps (use a table, stair, bench if you need to make it easier)
Rest 60 seconds and repeat total of 3 rounds
If the Squat and Press is too much then just perform squats without the press. Remember to focus on technique and on the depth of the squat.
---
Workout 2 – Core Kettlebell Workout for Women
Kettlebell Single Leg Deadlift – 6 reps each side
Kettlebell Side Lunge – 6 reps each side
Kettlebell Squat and Press – 12 reps (6 each side or 12 holding the kettlebell in both hands)
Kettlebell Turkish Get Up – 3 each side
Rest 60 seconds and repeat total of 3 rounds
This female workout is a lot more technical than the first one. There are more demands on the core muscles, balance and technique. Take your time and get the exercises right.
---
Workout 3 – Full Body Kettlebell Workout for Women
Kettlebell Turkish Get Up – 3 reps each side
Kettlebell Swing – 20 reps
Kettlebell Side Lunge – 8 reps each side
Kettlebell Squat and Press – 10 reps each side
High Knees – 50 reps (run on the spot lifting your knees up high, count just one leg)
Rest 60 seconds and repeat total of 3 rounds
Now we really start to get that heart rate up. Enjoy!
---
Conclusion
Kettlebells workouts for women are a great choice and highly effective. Moving away from cardio based workouts and onto resistance based workouts will have a huge impact on the female body.
If you are not getting the results you want from your current workouts then kettlebell training could be the answer.
I've personally seen kettlebell training change women's attitudes towards weight training and completely reshape the way they look.
If you would like to take your body and training to the next level and add a new dimension of skill and fun then I highly recommend you get started today.
Best of luck and take care, Greg
See my 12 week women's kettlebell program here
Are you a woman who loves kettlebells? Let me know in the comments below…