In recent years, kettlebell training has gained significant popularity among fitness enthusiasts as an effective tool to build more muscle and optimize overall fitness.
While kettlebell training offers numerous benefits, the true power often lies in the mind-body connection that it establishes.
In today's article, we will explore the mind-body connection in kettlebell training and how it enables you to build more muscle and strength.
Understanding and implementing these principles can transform your workouts and ultimately lead to better results.
---
The Mind-Body Connection: A Brief Introduction
The term "mind-body connection" refers to the profound interplay between our thoughts, emotions, and physical actions and how these factors collectively influence our overall well-being.
The mind-body connection plays an essential function in any form of exercise, but it becomes especially significant in kettlebell training.
This is because kettlebell workouts' dynamic movements and compound exercises require a heightened sense of focus, coordination, and body awareness.
---
The Three Pillars of the Mind-Body Connection in Kettlebell Training
1. Visualization
Numerous studies have shown that mental imagery or visualization – the process of mentally rehearsing a particular movement or action – can profoundly impact physical performance.
Visualization can enhance muscle memory, facilitate neuromuscular efficiency, and even improve strength.
In kettlebell training, visualization is essential in ensuring proper form and preventing injuries.
Before executing a movement, take a moment to mentally map out each step and focus on how the different muscle groups will engage throughout the exercise.
For example, when performing a kettlebell swing, visualize your hips driving the weight forward with explosive force and your core maintaining stability during the entire movement.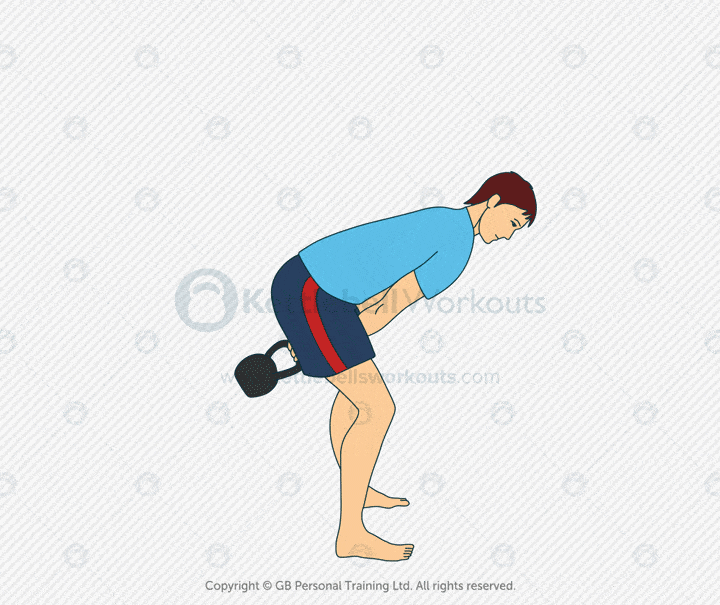 2. Flow State
Flow state, also known as "being in the zone," is a state of increased focus and immersion where an individual is completely absorbed in the task at hand.
Achieving a flow state in kettlebell training can have numerous benefits – including improved coordination, increased performance, and greater workout enjoyment.
To cultivate a flow state during kettlebell workouts, consider implementing the following strategies:
Set clear goals: Define your objectives for each workout, such as the number of sets, repetitions, or desired weight.
Eliminate distractions: Clear the workout space of any potential distractions, and consider using music or white noise to drown out any background noise.
Utilize controlled breathing techniques: Breathing exercises can help reduce stress and anxiety, enabling you to maintain a focused and relaxed state of mind.
Embrace challenges: Gradually increase the complexity and difficulty of your workouts to engage and maintain your interest.
3. Kinesthetic Awareness
Kinesthetic awareness refers to your ability to perceive and understand how your body is positioned and moving in space.
This is crucial in kettlebell training, allowing you to execute complex movements and correctly engage the appropriate muscle groups.
To enhance kinesthetic awareness in kettlebell workouts:
Pay close attention to the physical sensation during each movement.
Record yourself performing exercises and review the footage to identify any areas requiring improvement.
Seek feedback from a coach or training partner.
The bottom's up clean is an example of a complex movement worth practising:
---
Leveraging the Mind-Body Connection to Gain More Muscle and Strength
Now that we have established the importance of the three pillars of the mind-body connection, let's look at how you can utilize it to build more muscle and strength while engaging in kettlebell training.
Mental Rehearsal and Greasing the Groove
"Mental rehearsal," or visualizing your kettlebell workouts before performing them, can enhance your skill in executing complex movements.
As your training progresses, this will lead to more precise and efficient muscle activation, allowing you to lift heavier weights or achieve more reps.
Another concept closely linked to mental rehearsal is "greasing the groove", a training technique developed by Pavel Tsatsouline.
This approach involves practising a specific exercise throughout the day or week at submaximal intensities, allowing your nervous system to adapt and strengthen the neural pathways responsible for that movement.
The classic example is an overhead press using an incremental strength ladder:
Set 1 = 1 rep
Set 2 = 2 reps
Set 3 = 3 reps
Set 4 = 4 reps
Set 5 = 5 reps
The emphasis of each set is practice along with plenty of rest in between sets and should never be pushed to muscular failure.
Combining mental rehearsal with greasing the groove can enable you to build more muscle by training your body to become stronger and more efficient in executing kettlebell exercises.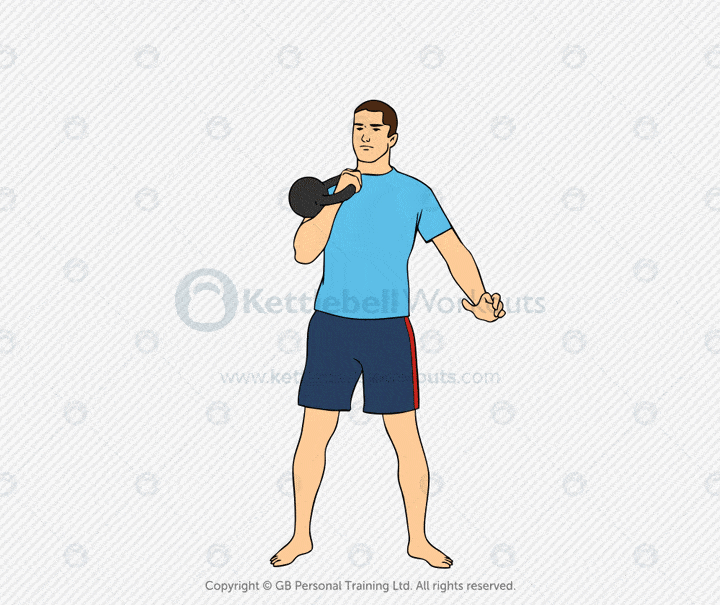 Gradual Progressive Overload
To effectively build muscle using kettlebells, adhering to the principle of gradual progressive overload is vital.
This involves systematically increasing your kettlebell workouts' weight, volume, or intensity to challenge your body and stimulate muscle growth continuously.
Leveraging the mind-body connection is key to achieving progressive overload, as you must be highly attuned to your body and its capabilities to push yourself safely and efficiently.
Be mindful of the fine line between underestimating and overestimating your abilities – find the sweet spot that challenges you without causing injury.
Focusing on Time Under Tension
Time under tension, a principle commonly utilized in resistance training, refers to the amount of time a muscle is under strain during a single set.
This concept also applies to kettlebell training and can be a potent muscle-building tool.
By slowing down your movements and focusing on maintaining constant tension throughout the complete range of motion of each exercise, you engage both the mind and the body, stimulating greater muscle growth.
This also facilitates an enhanced mind-muscle connection, enabling you to establish a stronger mental relationship with the muscle group being worked during your kettlebell training.
---
Conclusion
The mind-body connection in kettlebell training is an essential aspect that holds the potential to unlock greater muscle growth and overall fitness improvement.
By incorporating visualization, achieving a flow state, and enhancing kinesthetic awareness, you can optimize your kettlebell workouts and experience significant results.
Remember to practice mental rehearsal, implement gradual progressive overload, and focus on time under tension to build more muscle in your kettlebell training.
It's time to harness the power of the mind-body connection and take your fitness progress to new heights.