In the quest to enhance strength, dodge a plateau, or boost your kettlebell training, understanding the concept of periodization could be the missing link.
Periodization is the strategic process of structuring training into different phases to allow optimal performance, peak at the right time, and reduce the risk of injury.
When applied correctly, it channels your efforts in the right direction, making every swing count.
---
The Science of Periodization Training
Periodization is the strategic organization of training cycles, informed by three foundational principles – progressive overload, recovery, and adaptation.
These pillars form the bedrock of effective training, equipping us to optimize our strength and endurance and master our kettlebell technique.
Progressive Overload
This principle teaches us to increase the training load to continuously challenge ourselves incrementally.
In a kettlebell training context, this might mean gradually lifting heavier weights, performing more sets or repetitions, or even enhancing the complexity of the exercises.
For instance, you may start with a 16 kg kettlebell for your swings and gradually progress to a 24 kg kettlebell over several training blocks.
This progressive overload sparks an adaptive response in our muscular structure as they strive to accommodate the intensifying demand.
Recovery and Adaptation
Once we impose a high-intensity stressor, such as a gruelling kettlebell workout, our muscle fibres endure microscopic damage. This is perfectly normal and forms the basis for muscle hypertrophy.
However, it's crucial to provide our muscles with the respect and downtime they deserve following a strenuous workout.
Recovery ensures the body replenishes energy stores, repairs muscle tissues, and reduces fatigue.
The adaptive process kicks in during this period of rest. While counterintuitive, it's not during the workout but during the recovery phase that muscles undergo an adaptive response, strengthening and growing.
General Adaptation Syndrome
This is a biological explanation of our body's response to stress, in this case, training stress.
Often, it encapsulates three stages:
Alarm Stage: The initiation point of stress when the body first recognizes the high intensity of a hard kettlebell swings session, for example.
Resistance Stage: The body's response to the stress involves recovery and rebuilding. Our muscles repair, becoming sturdier as they adjust to the imposed stress level. This phase emphasizes the need for adequate rest post-heavy training. For instance, if you pushed yourself in a strength-focused session with heavy kettlebell deadlifts, treat yourself to a recovery day or two before another hard session.
Exhaustion Stage: The final stage. A high-risk zone which results from sustained stress and insufficient recovery. Symptoms include reduced performance, poor muscle growth, and even the potential for injury.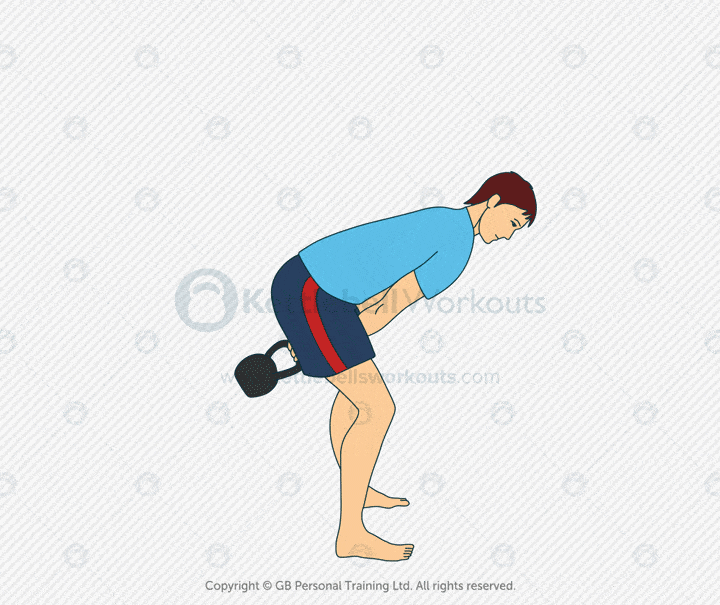 Avoiding the Exhaustion Stage
The beauty of periodization manifests when we weave these three stages into our training program.
We avoid the exhaustion stage by smartly manipulating training variables into distinct phases, like incorporating low-intensity periods or "deloading" weeks.
Periodization allows us to work independently on muscle endurance, muscular strength, and muscle hypertrophy, introducing diversity in every training session and evading the exhausting plateau.
---
Types of Periodization
Periodization has several forms, each with its unique characteristics and suitability. Depending upon your current fitness level, specific training needs, or desired outcome, you may choose one that fits your best interest.
Linear Periodization Training
Also known as the traditional or classical model, linear periodization follows a straightforward, progressive pathway.
The intensity and volume of training adhere to a systematic pattern throughout an entire program, lasting several months. The program typically has three phases.
Base Phase (high volume, low intensity): This phase lays down the foundation with an emphasis on building general endurance and fundamental strength. For instance, you might start by performing many sets of kettlebell swings using a lightweight bell, creating a solid base of strength and conditioning. This may also be a time for honing in and perfecting basic kettlebell techniques.
Build Phase (moderate volume and intensity): This phase is a transition phase where the training volume slightly reduces, and intensity starts to climb. Gradually, heavier kettlebells are introduced, and you might transition from basic kettlebell swing to more advanced moves like the one-handed swing or snatch.
Peak Phase (low volume, high intensity): This phase is the culmination of your training preparation, where you typically train with maximum load or highest intensity but fewer repetitions. At this stage, you might perform fewer reps with the heaviest kettlebell you can safely handle.
Example:
Weeks 1-4: Focus on higher volume and endurance-based kettlebell exercises with low to moderate intensity. (e.g. 3 sets of 15 kettlebell swings with lighter weight)
Weeks 5-8: Transition to moderate volume and moderate to high intensity. (e.g. 4 sets of 10 kettlebell one-handed swings with increased weight)
Weeks 9-12: Concentrate on lower volume and higher intensity, emphasizing kettlebell strength exercises. (e.g. 5 sets of 5 kettlebell clean and press with heavier weight)
Linear periodization is an effective and straightforward approach for beginners or for those aiming to peak for a specific event.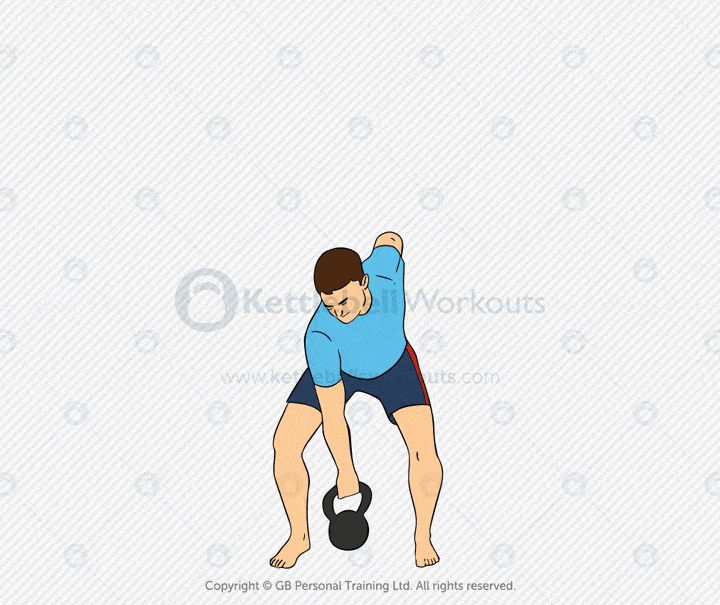 Non-linear or Undulating Periodization
This model introduces a revamp to traditional periodization, as it frequently changes training variables weekly or even daily.
The volume and intensity of training are adjusted within each week (weekly microcycles), unlike the linear model where changes happen over months.
Frequent Changes: For instance, you might schedule a high-intensity kettlebell workout on Monday, low intensity on Wednesday, and moderate on Friday. Overall, this provides a more diversified stimulus for your muscles and Central Nervous System (CNS), encouraging various adaptations.
Best Suited For: This is best suited for intermediate to advanced athletes who are confident with quickly shifting gears in their training.
Example:
Week 1: High volume, low intensity (e.g. 4 sets of 20 kettlebell swings using lighter weight)
Week 2: Moderate volume, moderate intensity (e.g. 4 sets of 12 kettlebell one-handed swings with moderate weight)
Week 3: Low volume, high intensity (e.g. 5 sets of 5 kettlebell clean and press using heavier weight)
Week 4: Active recovery week (e.g. light kettlebell exercises, focusing on mobility and flexibility, e.g. Turkish get-ups and windmills)
Following this weekly variation, repeat the cycle for another three-week regimen, gradually increasing the weights each time.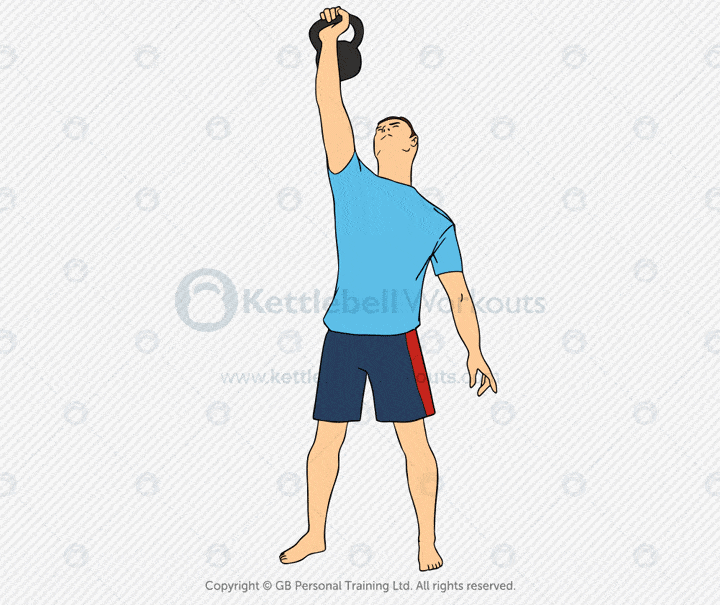 Block Periodization Training
Block periodization is often chosen by many advanced or elite-level athletes due to its detailed and sophisticated approach.
It breaks down the training schedule into distinct blocks, each focusing on developing a specific performance quality or adaption.
Accumulation Block: Primarily used for enhancing the general conditioning base and getting the physique ready for further, more specific development. In this phase, you may do kettlebell exercises focusing on endurance, like high-repetition swings and goblet squats.
Transmutation Block: This phase involves a greater volume of training specific to your competition or sport-specific requirements. For instance, if your goal is a kettlebell sport competition, exercises might include a high volume of jerks, snatches, and long cycle clean and jerks.
Realization Block (Peaking and Tapering): The final stage primarily focuses on expressing the potential you developed in previous blocks. Volume dramatically drops to allow for recovery and tapering, whereas intensity is kept high to maintain performance.
Example:
4-week Accumulation Block: Emphasize building work capacity and endurance using higher volume (e.g., 4 sets of 15 kettlebell clean and press with lighter weights)
4-week Intensification Block: Transition to higher intensity and lower volume, focusing on improving strength (e.g., 5 sets of 8 kettlebell snatches with increased weight)
3-week Peaking Block: Further reduce volume, maintain high intensity, and focus on power-based kettlebell exercises (e.g., 5 sets of 5 kettlebell push presses using heavy weights)
1-week Deload Block: Reduce intensity and focus on recovery with light, skill-based kettlebell drills (e.g., working on technique or mobility exercises)
Block periodization excellently allows for targeted, specific growth with controlled variables, making it an attractive choice for seasoned athletes.
In periodization training, macrocycles encompass an entire training year or season, mesocycles are shorter blocks within the macrocycle focusing on specific outcomes, and microcycles are the weekly building blocks within mesocycles.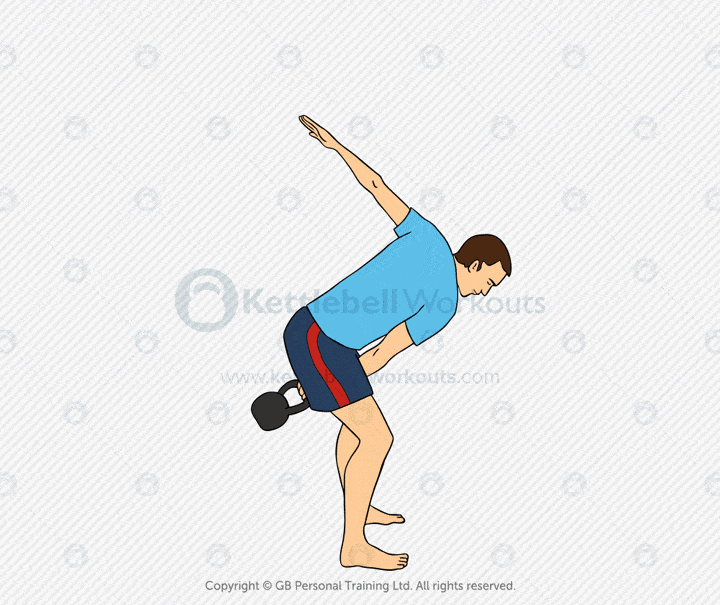 ---
Implementing Periodization in Kettlebell Training
Turning your workouts into a well-structured periodized training program involves several steps.
Step 1: Setting Goals
Depending on your fitness journey, your kettlebell training goals might vary.
For example, they could be about weight loss, developing more muscle mass, achieving maximal strength, enhancing aerobic capacity, or even improving your technical mastery of complex moves like the Turkish get-up or snatch.
Some may wish to prepare for a kettlebell sport competition.
Tailoring your plan to reflect these specific goals is critical. For example, if your goal is strength gain, your program might prioritize heavier kettlebells and lower reps.
Step 2: Selecting Exercises
Select targeted exercises based on your goal. Perhaps you are focusing on a full-body workout or on a specific muscle group enhancement, like building back muscles with kettlebell rows.
Don't forget to mix and match for variety, such as:
This variety ensures a comprehensive muscle workout and keeps your training engaging.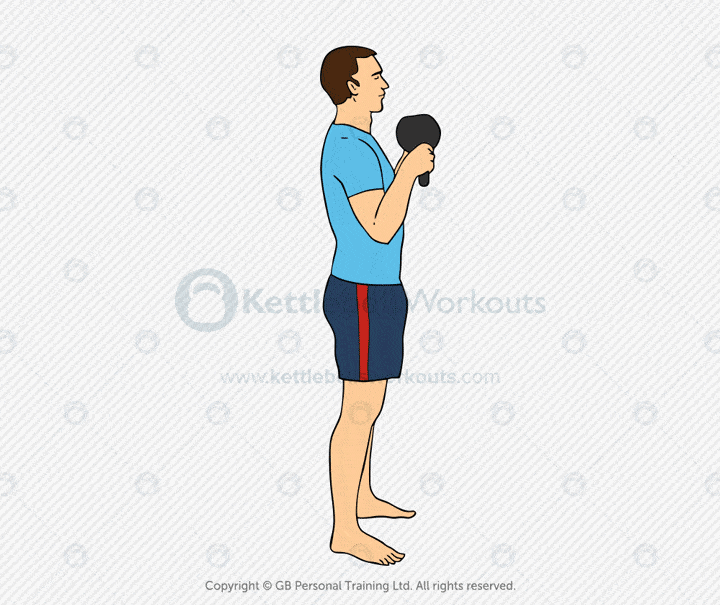 Step 3: Adjusting Volume and Intensity
Depending on your chosen periodization style and current training phase, you'll need to adjust the volume (number of sets and repetitions) and intensity (the weight of your kettlebell).
For example, during the base phase of a linear periodization program focusing on muscle endurance, you might be doing four sets of 20 kettlebell swings with a light kettlebell.
As you transition to the peak phase focusing on strength, it might reduce to five sets of five reps, but with a very heavy kettlebell.
Remember the importance of balance in adjusting these variables to prevent overstress and to keep the progressive overload principle in check.
Step 4: Planning Recovery
While structuring your program, account for recovery periods both at the micro (within a training session) and macro level (between training days or blocks).
During a heavy kettlebell session, intersperse rest periods to allow for adequate muscle recovery and fuel replenishment.
Similarly, a recovery week or a 'taper phase' might be appropriate to avoid overreaching or overtraining after a high-intensity training phase or block.
Active recovery methods, like low-intensity steady-state cardio (LISS), mobility work, and stretching, can significantly enhance muscle recovery and overall training adaptation.
In a nutshell, effective periodization of kettlebell training involves goal setting, exercise selection, adjusting volume and intensity, and planning recovery.
Through these crucial phases, one can optimize the benefits of their training regime, reducing the risk of overtraining and injuries while potentially boosting overall fitness outcomes.
---
The Science-backed Benefits of Periodization
Implementing a periodized program into your training routine brings multiple advantages that extend beyond simply dodging stagnation or training plateaus.
Reducing Injury Risk
Incorporating specific recovery periods into your training program contributes to muscle recovery and tissue repair. By doing so, the chances of sustaining injuries from overuse are reduced (1).
Moreover, periodization allows for the gradual adaptation of your body to changing exercise demands, easing the stress on your musculoskeletal system and lowering further injury risks (2).
Optimizing Performance
A periodization program can systematically improve various aspects of your performance, be it muscular strength, endurance, power, or other specific areas related to your fitness goal. Such targeted improvements help you reach your performance peak efficiently (3).
Multiple studies support this concept, which highlights its efficacy in enhancing physical performance (4,5).
For instance, a study published in the Journal of Strength and Conditioning Research found that professional athletes following a periodized regimen showed a significant improvement in their performance over those who did not (6).
Beneficial for Everyone
Regardless of your level of expertise, novice, amateur, or professional, periodization can significantly contribute to your training outcome (7).
From dedicated endurance athletes to individuals seeking weight loss or muscle gains and those aiming for general fitness, everyone can benefit considerably.
Periodization brings a logical progression and rhythm to your training program, promoting harmony between your training demands and desired outcomes.
Its tailor-made approach aligns well with individual needs, optimizing the benefits and reducing potential risks.
---
Conclusion
A successful long-term training plan requires methodical planning, and periodization brings just that to your kettlebell workouts.
It is the master key to unlock improvements across muscle endurance, strength gains, and power and gives a significant advantage.
So, prepare to unleash your true potential by incorporating periodization into your training schedule. Remember, smart training is the path to high performance, not just intense training.
References
Sources:
Fleck, S. J. (1999). Periodized strength training: A critical review. The Journal of Strength & Conditioning Research, 13(1), 82-89.
Kiely, J. (2012). Periodization paradigms in the 21st century: evidence-led or tradition-driven? International journal of sports physiology and performance, 7(3), 242-250.
Turner, A. (2011). The science and practice of periodization: a brief review. Strength & Conditioning Journal, 33(1), 34-46.
Plisk, S. S., & Stone, M. H. (2003). Periodization strategies. Strength & Conditioning Journal, 25(6), 19-37.
Issurin, V. B. (2010). New horizons for the methodology and physiology of training periodization. Sports medicine, 40(3), 189-206.
Grgic, J., & Mikulic, P. (2017). Tapering practices of Croatian open-class powerlifting champions. Journal of Strength and Conditioning Research, 31(9), 2371-2378.
Mann, T. N., Lamberts, R. P., & Lambert, M. I. (2014). Methods of prescribing relative exercise intensity: physiological and practical considerations. Sports Medicine, 44(7), 613-625.